Granular & Wavetable Synthesis w/ Frantic Noise
Recording
€ 36
3h live online lecture incl. q+a
Join us for an in-depth webinar, shedding light on the concept of two of the most complex and fun synthesis types: Granular & Wavetable. It will be a 3h journey and we will make some of the weirdest and most interesting sounds possible by using cutting edge synthesizers. Learn everything you need to further your progress in these areas of creative sound design.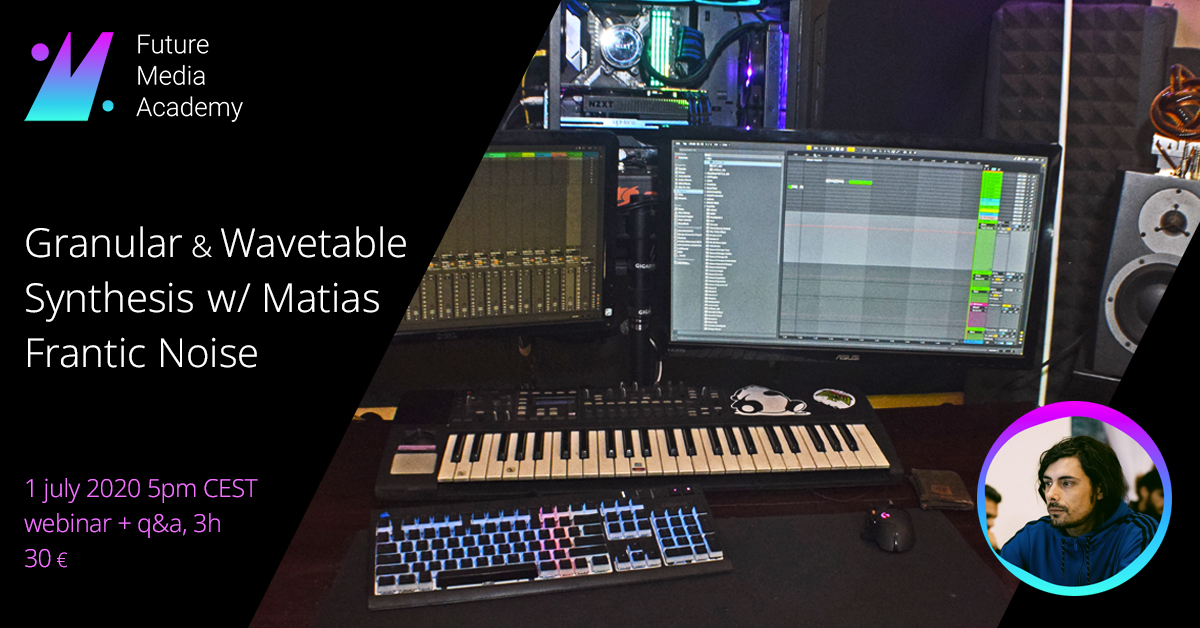 Topics that will be covered
— Xfer Serum
— Ableton Wavetable
— Massive & Massive X
— Blamsoft VCV
— Granulator (Max4Live)
— Spacecraft VST
— Palindrome
— Dust
Frantic Noise (Dark Prisma Records)
Matías Benamo, aka Frantic Noise, is a world-renowned electronic music producer currently based in Costa Rica. Besides being the co-founder of legendary Argentinian label Dark Prisma Records, he is an experienced teacher of music production and has worked for highly regarded schools such as Patsav, Sonica Academy and Escuela MAE.
Frantic Noise can be considered one of the leading producers in "hitech" psychedelic music, creating unique multi-textured and highly-recognizable soundscapes that have been thrilling dance floors around the world for many years. Featuring a bewitching spectrum of noises, his spellbinding bass lines create a deep, textural sonic journey, playing with and disrupting the illusion of rhythm and time.
Since releasing his debut album back in 2006, Matías has been a passionate advocate of the underground electronic music scene and a leading ambassador, promoting the culture across the world. His dedication is evident in his commitment to pass on knowledge and inspire future generations, and he has been running his own workshops for the last 10 years across Latin America, Europe and India, as well as many individual classes.