Psytrance & Forest Music Production w/ Kabayun
9—23 November 2020
€520early bird  till 09 October
20h of interactive lectures combined with practical assignments
Materials: Pigments Presets, Virus Presets, Track Template
Teacher: Kabayun (Sangoma Records)
DAW: Cubase
Welcome to our introductory online-course about Psytrance & Forest Music Production with Cubase! It will be hosted by David Mostoller aka Kabayun, a renowned producer originating from the United States. Since his first release back in 2009, he has managed to create his very own unique and powerful form of Psychedelic Trance, combining only the best elements of Darkpsy, Forest and even Fullon psytrance. He is the best teacher we could have imagined to give this course and we are very proud to host it!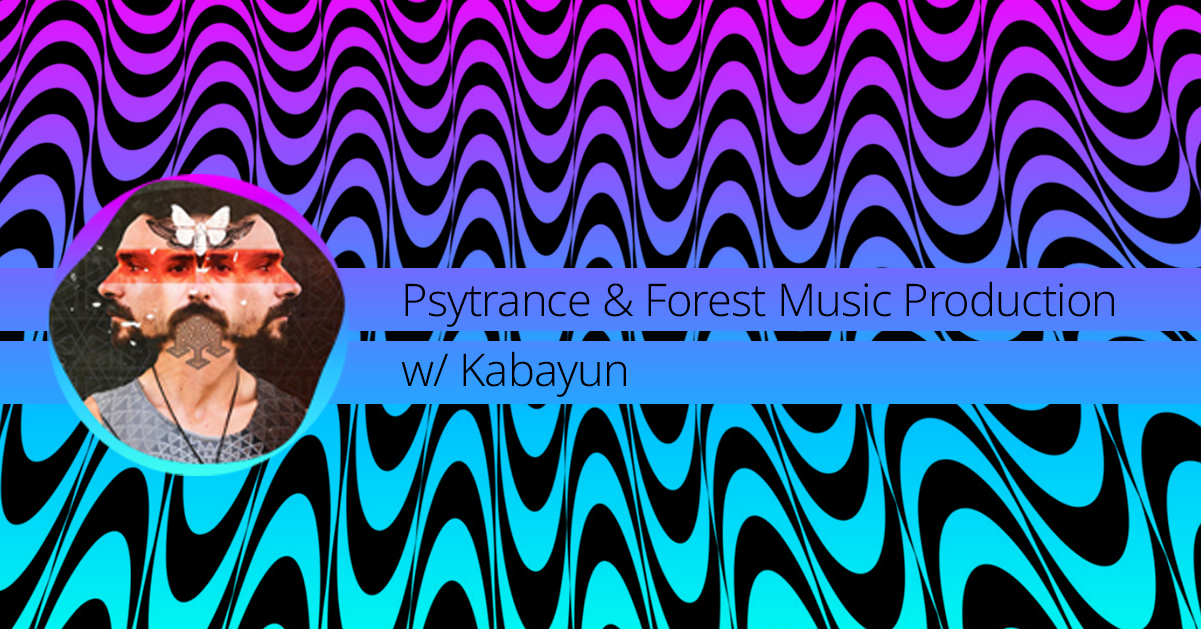 The course will teach you
— Basics of Cubase
— Sound design & music theory
— Rhythm theory
— Synthesis (modular, analog, software/hardware)
— Audio effects
— Arrangement & composition
— Mixing & mastering
— Requirements for live set-up
Who is the course for?
— The course is open to students of all musical backgrounds.
— You don't need any prior experience or knowledge of music production.
— You need to have an interest in electronic and underground music.
What materials will you get?
— Virus presets
— Pigments presets
— Track templates
Course Program
Introduction to Cubase ⎥ 3h

Basic functions and layout
Basic techniques
Organisation
Workflow
MIDI modifiers
Recording to audio (render in place / bounce)
Chopping/editing audio

Kick and Bass ⎥ 3h

Synthesis
Mixing
Patterns and styles

Percussion ⎥ 3h

Samples
Plugins (StylusRMX, Groove Agent, Battery)
Patterns and grooves
Mixing (EQ, compression, etc.)

Sound Design using software synthesizers (Serum/Pigments) and VirusTI ⎥ 3h

Synthesis basics: oscillators, envelopes, filters, modulation and routing
Psytrance typical sounds
FM, phase, granular, wavetable

Using Virtual Effects ⎥ 3h

EQ (including dynamic EQ)
Compression and limiting
Delay
Reverb
Distortion / phasers / flangers etc
LoopMash / repeaters

Sound design using Eurorack modular⎥ 3h

Module overview (types and uses)
CV/Gate - triggers
Modulation
Recording

Arrangement & composition / Mixing & mastering⎥ 3h

Inspiration and ideas
Color coding
Groups and busses
Different types of analysers
Compression, multiband compression, limiting, maximizing, EQ
Stems
What you need
— Laptop or Desktop Computer
— Cubase (any version will do but teacher will be using 10.5) — if you do not have Cubase we will assist you to get the 30-day free trial of Cubase Elements 10.5
— Headphones
— Stable internet connection for the streams
— Soundcard/Audio Interface - not necessary if your computer has a built in sound card that can handle Cubase
— No prior knowledge of production is required
Testimonials
"

I have to say, the experience here is very unique and tailored to your needs.. the format of the webinars and delivery is perfect.. it's such an awesome initiative and there is so much that I learnt from this.. thank you guys for curating such amazing sessions with some of the best in the industry!! Big shout out to Kabayun for his webinars.. truely enjoyed that sessions and have learnt a lot in these few weeks!! What amazes me is the depth of knowledge they cover is awesome.. not necessarily limited to a daw or synth!!"
— Raghu Kumar

"

Thank you for the opportunity to look under the hood of psychedelic music production. There was a lot of interesting and useful information."
— Aleksei Kazantsev

"

Im really thankfull for the workshop you organized it was super nice and learned alot of new stuff. Keep on the good work, thank you!"
— Tilen Drnovsek
Kabayun (Sangoma Records)
Kabayun is the project of David Mostoller, a psytrance producer from the United States. After spending many years honing his sound, performing around the USA and organizing parties in New York City, David has spent the last 5 years touring the globe, performing in many European cities, in North and Central America, Asia, India and Australia, and at many of the top summer festivals in Europe, including Ozora, MoDem, Antaris, Summer and many more.
After releasing his debut album on 2to6 Records in 2011, in 2012 David joined the team at Looney Moon Records, based in Italy. In 2015 he joined Sangoma Records, a label based in Germany that promotes psytrance without genre boundaries, which is a perfect fit for his music, which floats in the border zone between twilight, forest, and dark, pulling elements from each, for a full power, psychedelic and very danceable vibe.
His tracks have been featured on many compilations and releases from top psytrance labels over the years, currently David is working on a ton of new music, including a new EP and an upcoming album on Sangoma Records, as well as many collaborations with some of his favorite artists and friends in the scene.
Now residing in Philadelphia, PA, USA, Kabayun is available for bookings worldwide.
Kabayun's music intends to create an environment that stimulates the listener to release themselves from the trials of everyday life and confront their challenges through the trance dance experience. Channeling the spirit of the west, Kabayun pulls together many elements to create an intensely psychedelic experience that lifts the body and the mind to undiscovered plateaus….