Live Set-up & Stream Tricks w/ Frantic Noise
Your music is ready to be shown to the world. Are you ready to play it in a live streaming?
23 April 2021 Friday 17:00 CET
€ 36 
3h live online lecture + question & answer session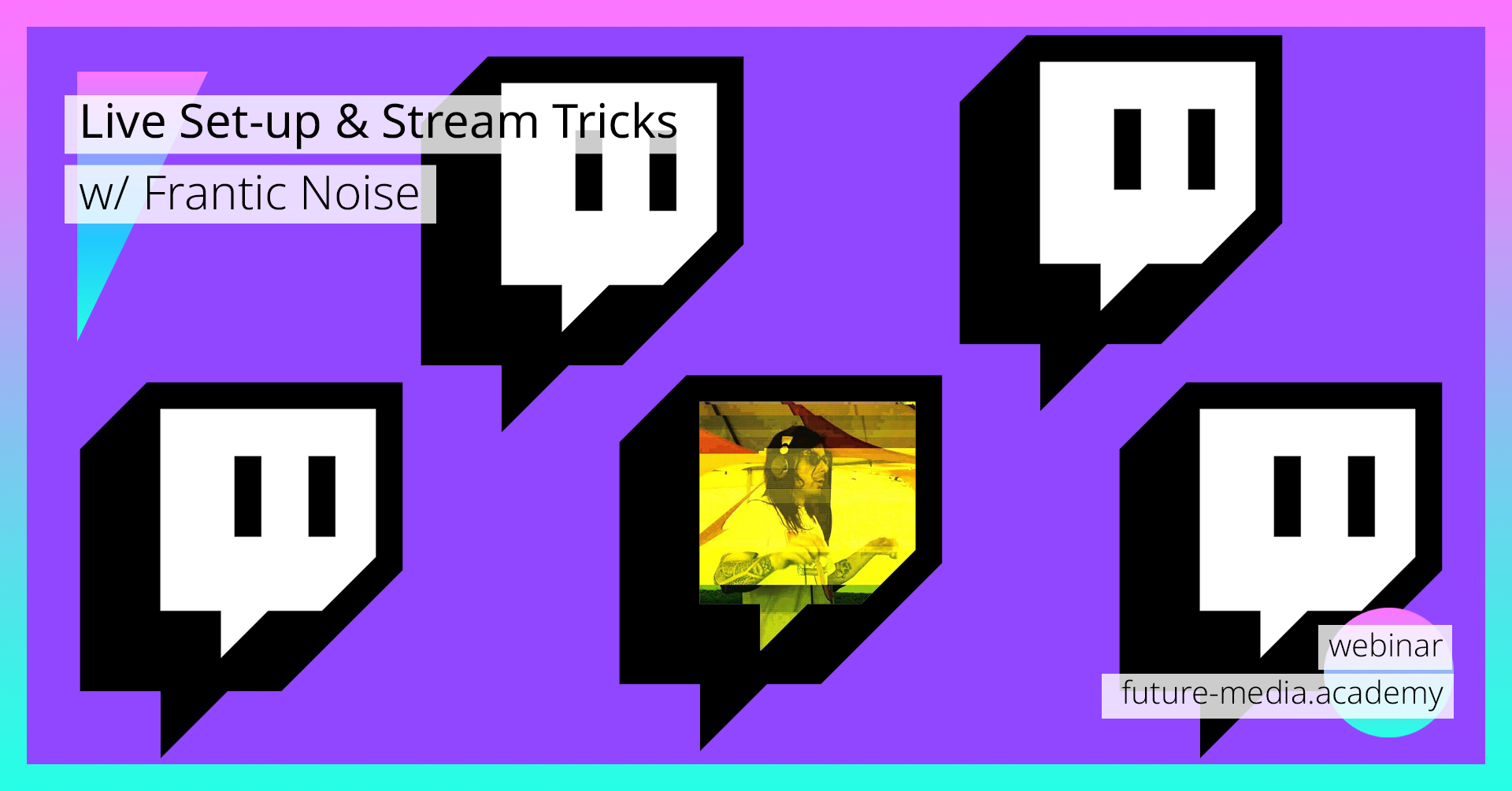 Live streaming has become one of the most widespread ways to get your music to the attention of both affectionate listeners and potential new followers.
Over the last year Frantic Noise has run a successful series of live streaming performances on Twitch and he is now ready to share his experience with our students.
Step by step, you will gain the skill set you will need to launch and successfully manage a live streaming on a Twitch channel in this new era of music consumption.
Topics to be covered
Why should I stream?

— Benefits of streaming
— Creating your audience

Building your Liveset w/ Ableton Live

— Choosing tracks by BPM & Key
— Warping tracks & Defining CUES
— Adding synthesizers
— Adding rhythmic elements

OBS Sound configuration

— Low latency sound configuration to be able to play and stream sets in real time without that painful 50-100 ms latency that comes with the DX and Wave drivers from Windows 10.

OBS Alpha Layering

— Create appealing layers with transparency to engage your viewers.
— Create transparency effects between your visuals, including your software (ableton, serato, etc) within your scene to fill in your audience with some inside details such as bpm, trackname, key, upcoming & previous track, etc.

OBS Audio rhythmic effects

— Create audio rhythmic effects and blend them into your scenes using
— "Wallpaper engine"

Managing your Streamlabs.com accounts

— Timers
— Commands
— Sub badgers
— Notifications & Widgets
What you need
— Laptop
— Sound Card and headphones
— Internet connection
Frantic Noise
Matías Benamo, aka Frantic Noise, is a world-renowned electronic music producer currently based in Costa Rica. Besides being the co-founder of legendary Argentinian label Dark Prisma Records, he is an experienced teacher of music production and has worked for highly regarded schools such as Patsav, Sonica Academy and Escuela MAE.
Frantic Noise can be considered one of the leading producers in "hitech" psychedelic music, creating unique multi-textured and highly-recognizable soundscapes that have been thrilling dance floors around the world for many years. Featuring a bewitching spectrum of noises, his spellbinding bass lines create a deep, textural sonic journey, playing with and disrupting the illusion of rhythm and time.
Since releasing his debut album back in 2006, Matías has been a passionate advocate of the underground electronic music scene and a leading ambassador, promoting the culture across the world. His dedication is evident in his commitment to pass on knowledge and inspire future generations, and he has been running his own workshops for the last 10 years across Latin America, Europe and India, as well as many individual classes.