Bitwig Studio for modulars and why on Linux
Recorded Webinar
€ 36
3h live online lecture + question & answer session
In this webinar Lev Greshilov aka KinDzaDza will show and explain how to use Btiwig Studio for modulars in music production and why it's better to run on Linux. This webinar is an introduction to our online Powerful Dance Music Production w/ KinDzaDza course, that will start the second round in lately in June 2020. This webinar is free for all students of KinDzaDza course.
The webinar will take place online on Future Media Academy's website under My Academy, which you can access after logging in with your login name and password. The platform will be open from 12:45pm CEST for set-up and troubleshooting. We advise you to be there on time to ensure the smooth running of the webinar.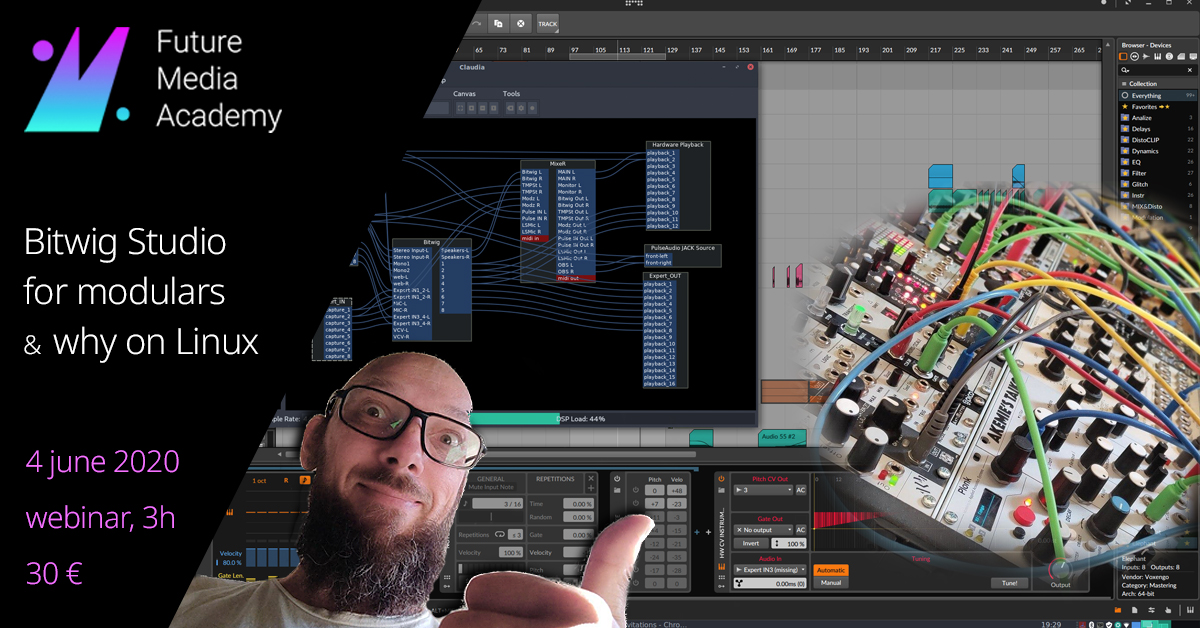 What you need
— Laptop
— Sound Card and headphones
— Internet connection
Students reviews
"Few years ago i had a dream about it, that my favorite artist taught me and now it happened. KinDzaDza is one of the musicians i get chills on my skin by listening his music, so of course i was happy to have this opportunity. Learned a lot of tricks from him and many cool features of Bitwig. Thank you, Academy!" – Maria Kolesova
"Amazing course, it feels like a lifetime of knowledge was uploaded to my brain in the blink of an eye! KinDzaDza is a good teacher with humor and was always willing to explain in as much detail as desired when there was the need for it :) Unfortunately I had to work today so I missed the last class, but I am very grateful for beeing given the chance ti participate in something a unique as this course. Thank you all, especially Lev KinDzaDza!" – Nicolai Markart
Lev KinDzaDza (Osom Music)
As a child, Lev KinDzaDza loved taking clocks and watches apart. When he got bored with that, he began to build computers. He then discovered that computers could also make nice sounds. Lev was hooked.
Later in life, he travelled to Goa India, where he continued his musical journey creating psychedelic trance designed for a powerful and immersive dancing experience. Lev believes that dancing is the most accessible way to reach harmony with inner and outer space, as is shown in centuries of experience for people around the world.